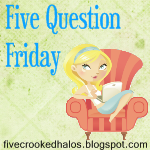 Happy Friday to my friends, new and old. I hope this week has been good to you all. In addition to my weekly {this moment} post. I thought I would try something new, Five Question Friday. To join in and do your own Five Question Friday, head over to
My Little Life
and link up!





Without further ado:

1. What were your school colours?

In Elementary School, Terry Fox PS, it was grey and burgundy.

In Jr. High, Robert H. Lagerquist, it was gold and purple

In Highschool, Heart Lake Secondary School, it was blue, red and white.

2. What's the best compliment you ever received?

This is a tough one. I think in general we, as a society, focus more on the negative than the positive. After much consideration, I think the compliments I remember the most relate to my family. "Your kids are very well behaved", "What a lovely family you have".

But I'm going to say, the BEST compliment, was when Mr. Twingle asked me to become his wife. In that one small act, he was telling me not only that he loved me; but, that he respected me, was loyal and committed to me and above all else, he would always be there for me.

3. Do you buy cheap or expensive toilet paper?

LOL, I love this question.

The "right" toilet paper is important in this household. I find if we don't get that "right" TP both hubby and I end up with itchy bottoms (a little TMI, I know).

We have actually found that the Kirkland Brand TP from Costco works well for us and it's affordable too!

In a pinch, between Costco trips it has to be Charmin; but prolonged use can lead to the above mentioned situation :P

4. Have you ever had a surprise party thrown for you? Or have you had one for someone else?

Yes...and yes!

The only surprise party that was thrown for me was my 20th birthday. I'm fortunate that I'm a June baby and so my BFF's held a party under the pretense of our annual start of summer bbq. Little did I know that they had actually turned the bbq into a surprise party for me with most of my nearest and dearest friends in attendance. It was a wonderful afternoon and one I remember fondly.

To answer the other half of the question, I threw a surprise going away party for Mr. Twingle who was then my boyfriend. He was going away to college and so a couple weeks before he left I got his friends together to say goodbye. We had each contributed to a laundry basket full of essentials for college life. Things like laundry detergent, shampoo, toothpaste and even condoms.
5. What is one material possession that you "can't live without"?
Hmmm...I'm gonna have to say my iPhone. It goes everywhere with me and can do everything I need it to.
It's a GPS when I'm travelling, a camera for those random moments and you don't have a camera handy, an iPod so I have music anywhere I go, a social networking device; I have Facebook and Twitter anytime I need a fix, it's a good book to curl up with and so much more.
Yes, my iPhone is definitely the one material possession I can't do without!
♡♡♡♡♡♡♡♡♡♡♡♡♡♡♡♡♡♡♡♡♡
Okay, I'm done. Now it's your turn! Don't forget to link up at
My Little Life