I'm home from the cottage and buried in a heap of laundry; but I thought I'd take a moment to do this week's Five Question Friday.
Hop on over to
My Little Life
to play along!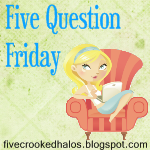 1. How many pets do you have?
We have 2 fur babies. Our dog is a 2 year old lab/shepherd mix named Röxi. Our cat is Meeka and she is a 7 year old siamese/angora mix and boy, oh boy does she have the personality of a Siamese!
2. If you could switch places with anyone in the world for one day, who would it be?
Hmm, I don't know. I'd like to be someone fabulous, but not someone constantly plagued by the media. Carrie Bradshaw, though fictional, would be a good choice!
3. What is your favourite money saving tip?
If I were able to save money and had a tip to share I would. But seeing as every penny Mr. Twingle and I have goes to staying afloat, I'm not the best person to ask.
4. What do you want your kids to be when they grow up?
Honestly, the only thing I want them to be is happy and healthy. They could work at McDonald's or as the person who scoops elephant poop and I wouldn't care as long as they were happy doing it.
I know, I'm a total cliché.
5. What is your favourite quote?
The summer I was 16 my BFF at the time and I went to Collingwood and found these magnets that read "Never Let a Day Go By Without a Dream". I have no idea who said it; but, it has stuck by me all these years and it's one that I try to live by.