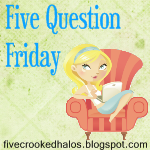 Happy Friday everyone! I hope this week has been a good one. I had some ups and downs while battling the flu; but, I'm on the mend. Here are my answers for this weeks Five Question Friday. To join in and do your own Five Question Friday, head over to
My Little Life
and link up!
Rules for Five Question Friday
: Copy and paste the following questions to your blog post, answer them, then
c'mon
back to link up! If you don't have a blog (or already wrote a post), but would like to play along, feel free to leave your answers in the comments below!
1. Are you a neat sleeper or a messy sleeper?
I am a neat sleeper for sure! I hate the covers to be messed up. Before going to bed each night (if I didn't make the bed that morning), I have to make sure the bed is properly made: sheet tucked in, blanket centred on bed and duvet smoothed out.
The irony is that Mr. Twingle is the messiest sleeper I know. It drives me absolutely INSANE that he can't sleep without destroying the bedding. The sheet is always pulled out and bunched up at the bottom of the bed, the blanket is usually half on the floor and the duvet, well, that usually ends up on top of me. It's a wonder I still let him sleep in the bed!
2. Fill in the blank. I wish I was more ______________________.
I wish I was more active.
If I were more active I would have more energy to chase after the kids, clean, and just be me.
3. What is something that you wish you had been warned about?
Hmmm, I'm sure there is a more important moment; but, right now I wish I had been warned about installing the iOS4 update on my 3G iPhone.
The update has slowed the phone considerably. It causes freezing and doesn't work properly half the time. And battery life? Forget it. Where I used to be able to get 2 full days on a charge, I'm now lucky to get half a day.
I really wish I had been warned this would happen. I would not have installed the upgrade as the OS3 worked just fine. Then again, maybe this was Apple's plan all along. Make the iOS4 work poorly on 3G phones to get people to buy the new iPhone 4. If that's the case, it's worked, 'cause as soon as I can get my hands on one, I'll be upgrading to the iPhone 4.
4. What was the best thing you ever found at a garage sale/flea market?
Brand new, unopened, photo coasters, 2 sets!
I found these at a garage sale the summer the summer after the twins were born. I wasn't sure what to give the grandparents for Christmas that year and these were perfect.
I got them home, printed off pictures of the twins to put in the coasters, wrapped them back up and those were part of their gifts. Of course, the grandparents all loved them and are still using them 6 years later!
5. If you could have any meal brought to you right now, what would it be?
I would LOVE a Starbucks Caramel Macchiato and a bagel right now. It's still breakfast time and I haven't eaten yet. I'm totally out of bagels so I can't make myself one and I really want one, LOL.