Welcome October and thanks for stopping by. While you're here, please take a moment to enter my
Clipa giveaway
which ends Monday (10/4).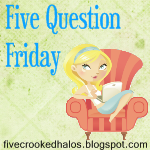 It's been a few weeks since I've had a chance to participate in Five Question Friday. I hope you're link up and play along! Pop on over to
My Little Life
to join in the fun.
Rules for Five Question Friday
: Have fun!! That's most important...but, you'll need to copy and paste the following questions to your blog, answer them, then watch for the
linky
to appear Friday morning!
1. Did you have a penpal when you were little (or now)? Where were/are they from?
Yes, actually I did have a penpal when I was younger. Her name was Suzette and she was from South Africa. We started writing when we were about 16 and wrote for many years. We lost touch about 10 years ago; but, thanks to Facebook, we were able to connect again.
2. If you could do a different job for one day, what would it be?
Well given I'm currently a SAHM, any job would be different. I guess I would like to be a very successful Marketing Ad Executive launching a great new campaign.
3. Do you remember your biggest fear from when you were little?
I remember being in swimming lessons when I was about 6 or 7 and our instructor wanted us to jump off the lifeguard chair into the deep end. I was terrified and my mom ended up coming in and jumping in with me, clothes and all. I've never been able to jump off a diving board or anything high above the water since.
4. What do you think is a waste of time? Why?
Hmmm, I actually had to think about this one. I think school fundraisers are a waste of time. I say this as I currently have 2 on the go. We hadn't even finished the first one when the second came home. How much money does the school REALLY get from these fundraisers? And as if we parents are busy enough, we have to try to convince family and friends to constantly have their hand in their pocket. Thanks anyway :(
5. What is the oldest item you have in your closet?
Wow, this is a good question! I think it would have to be the suede leather jacket I bought when I was 19.