Good morning and welcome! It's the last Friday in October and I know my kids are super excited for trick or treating on Sunday. Of course, the Hallowe'en festivities have already begun with their Beavers and Sparks units having Hallowe'en parties. Today at school they will also be having a class party and the school does a costume parade. While I'm glad they are getting use out of their costumes, I think I'm going to be all Hallowe'ened out by the end of it!
It's Five Question Friday again, yay! I love linking up at
My Litte Life
and playing along. I hope you'll join in the fun too. The rules are simple: Copy and paste the following 5Q into a blog post of your own, answer them and link up! Feel free to answer the questions in a comment here if you don't have a blog.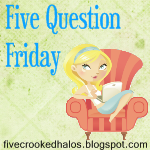 1. If you could be a fly on any wall, which would you choose?
Hmm, this is a good question. I think I would say a political or celebrity person's wall; but, I can't decide who at the moment...maybe Prince William?
2. Do you budget your Christmas shopping or just get it done without budgeting?
I've never really budgeted although I probably should.
No, I don't think that's actually true. While I might not sit down and say "I'll spend x on this person", I do know we're on a budget and limit what I would buy. In the past, each person may have received 2-3 gifts. Now, each is only getting 1 and whenever possible, Mr. Twingle and I, make the gifts or use our Aeroplan miles to get gift cards to pay for those items. It makes the budget go a little farther and I don't end up with guilt over not being able to afford Christmas.
3. What is the craziest fad diet you have ever done?
Oh my, where do I begin? I've struggled with my weight all my life so I've tried many diets over the years. The only "fad" diet I can think of is the grapefruit diet, which is hilarious since I don't even like the stuff!
In highschool I decided that I couldn't eat breakfast because it made me feel sick and then I stopped eating lunch and would only have dinner. This worked well for losing weight; but, when I started eating properly again I gained it all back and then some.
4. Is there a TV show that you have seen every episode/season of?
Charmed! I loved Charmed while it was on and it was my Sunday night solice, never missing a week. I now have the entire series on DVD which I have watched in its entirety at least twice.
5. What one song always pulls at your heart?
I'm going to have to say my wedding song, "Feels Like Home" by Chantal Kreviazuk. Everytime I hear it, it brings a tear to my eyes.
Well that's it for this week. But now that you're finished, why not pop over to
3 Moms in One
where I'm the Friends 2 Follow featured blogger for the week!