I can't believe we're half-way through November already and that the twins turned 6 this week. Time certainly flies when you're having fun. I'll get a post up about their birthday party with some photos from Cosmic Bowling!
Speaking of fun, it's Five Question Friday! When you're done reading my answers, why not pop on over to
My Little Life
to link up with your own FQF answers! I hope you'll play along and link up!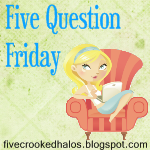 1. What Christmas song do you loathe?
You know, that's a hard one. There are so many wonderful Christmas songs out there, new and old!
I guess the one that appears on a lot of Christmas albums; but, isn't a traditional Christmas carol is Ava Maria. If it comes on the radio, I change the dial. I just don't like it :(
2. Do you and your significant other cuddle at night or sleep on opposite sides of the bed?
Often times we will snuggle for 5 or 10 minutes then roll to our respective sides. However, not because we don't want to snuggle.
Mr. Twingle is a tv in bed person and I'm not. So while he's watching Myth Busters or some other awful show, I roll over and try to block out as much sound and light as I can.
3. Have you ever had surgery?
Six years ago, I would have been able to say "no".
In those six years since I have had four surgeries. Two D&C's due to miscarriages and two caesarian section deliveries.
4. When do you typically have your holiday shopping done?
In past years when we haven't been on such a tight budget, I would be done by now. I tend to shop throughout the year grabbing a gift here or there.
However, the past couple years we've really limited spending to only essentials so I don't even start until November and will likely finish the first or second week into December.
5. If money were not an issue (and you HAD to pick something), what would your ultimate luxury item be?
Goodness, where do I begin!
Besides the obvious cars, mansions, etc I'd have to say I would LOVE a little place in France that I could escape to with hubs.