Today is Black Friday for our neighbours to the south. It's the day that marks the start of the holiday shopping season.
Black Friday has become synonymous with great deals and steals; but, traditionally it referred to businesses being in the "black" and turning a profit for the year as a result of this busy shopping day.
While our friends in the States celebrate their Thanksgiving weekend, I'm happy to answer this week's Five Question Friday! I hope you'll stop by
My Little Life
and join in the fun!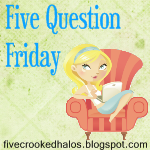 Rules for Five Question Friday:
Copy and paste the following questions into a blog post, answer them, then watch for the linky and link up!
1. What is your favourite part of a Thanksgiving meal?
Oh my, do I only have to pick one part? I love holiday meals as a whole; but, I guess my favourite would be the mashed potatoes smothered in turkey gravy. So bad for you; but, oh so delicious!
2. Are you a host or a guest for Thanksgiving this year?
Both! We hosted my side of the family on Thanksgiving Sunday and then we went to my in-laws for dinner on Monday with Trevor's side. In a perfect world, I could host both sides at once; but who has a dinner table that big?
3. When you think of one Thanksgiving tradition, what comes to mind?
As odd as it sounds, we don't really have any Thanksgiving traditions. We don't have a family football game while the turkey is cooking and we don't have a parade to watch on t.v since Canadian Thanksgiving is the first Monday in October.
Thanksgiving does have a special place in my heart though as Trevor and I were married on Thanksgiving Sunday seven years ago. While our anniversary may not fall on Thanksgiving weekend every year, it still makes me remember that very special day.
4. You have two pieces of pie in front of you and you HAVE to eat one...do you choose pumpkin or pecan?
Pecan hands down!
I despise pumpkin pie. I can't stand it. Yet I bake one for Thanksgiving and Christmas as Mr. Twinlge and all three kids will eat it. Not to mention most of my guests will eat pumpkin too. At Thanksgiving, I usually make an apple pie to go along with the pumpkin pie since our Thanksgiving falls during prime apple picking season!
5. Are you a Black Friday shopper?
Nope. We don't have Black Friday in Canada and even though I'm only about 45 minutes from the boarder; I'm not crazy enough to attempt to cross for the sales.