Good morning! I hope you're all having a wonderful week. What are your plans this weekend?
I've got a busy weekend ahead. I have to finish a very exciting blog post for all of you announcing our newest giveaway! Tonight I'll be attending the joint Guides/Scouts Christmas party and then my Guide unit is having a sleepover. Sunday will be spent hosting my brother and sister-in-law who will be coming over to do our Christmas together since they're travelling to Florida over the holiday itself.
So without further ado, let's get on with Five Question Friday. If you want to play, head on over to
My Little Life
and link up!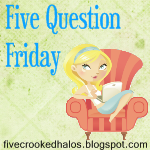 1. Do you regift...and if so, do you have a regifting horror story?
I have regifted in the past and no, I don't have a horror story. I don't see anything wrong with it as long as you make sure to keep track of where and when the gift was received and from whom. That way you're not going to end up with a regifting story.
I don't think you should have to keep a gift that you're not going to use. To my thinking, I'm either going to regift it and save myself a few dollars in the process, or it's going to get donated or thrown in the garbage. Why not take advantage of the fact that you have a ready-made gift to go?
2. Do you know what you are getting for Christmas this year?
I'm going to have to say yes and no.
Yes, I know what I'm getting from my hubby and that's nothing. We just don't have the budget to buy for each other and want to make the holiday extra special for the kids so we've spent our money on them.
No, I don't know what I'm getting from extended family members and I like it that way!
3. Who brings the most gifts in your family, you or Santa?
I'd have to say that it's a tie. Santa usually only brings one big gift and maybe one or two smaller items for the kids.
We usually try to have at least two gifts under the tree for each person. Even if it's one gift wrapped in two boxes!
4. What store do you love to buy jeans from?
I love getting my jeans from
Reitmans
. Being a plus sized gal, finding jeans that fit well can be a challenge. I've found through trial and error that the jeans at Reitmas have the best fit for my shape; and, they're affordable!
5. Christmas meal: Big, All Out Meal or Snacks & Apps?
It's gotta be a big, all out meal! Usually through out the day we skip lunch and will just have snacks and apps so we have room for the big dinner. Turkey, potatoes, gravy, stuffing, three or four veggies, rolls and pie for dessert...YUM!
Okay, well that's all for today. Now I'm off to bake for tonight's party. Have a wonderful weekend.