Thanks for stopping by this first Friday in December! I awoke this morning to a VERY light dusting of snow. It wasn't really anything spectacular; but, it made it seem more festive. I'm totally getting into the holiday spirit and even started my holiday baking this week. I'll post my cookie recipes for Molasses Spice Cookies and Cinnamon Polar Bears later this weekend.
I hope you'll join up with me and My Little Life for Five Question Friday. Head on over to
My Little Life
to link up!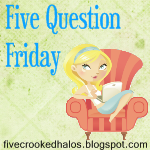 1. What's on the top of your holiday wish list and why?
What I would like more than anything this Christmas is to win the lottery. We've had a rough year, like many families, and it would be nice to be able to catch up and to also give our families some financial cushions too.
2. What is your favourite Christmas gift from the past?
This one's easy!
My engagement ring.
Mr. Twingle and I moved into our very first house together at the end of November. We had agreed not to get gifts for each other; just stocking stuffers, since we had just spent so much in closings costs, etc. Of course, neither of us stuck to that agreement. I bought him a George Foreman grill and in keeping with a childhood tradition, pj's to be opened on Christmas Eve.
He also knew about my tradition and so he woke me up to open my gift. Inside was a housecoat with a pocket. In that pocket was my engagement ring. Mr. T got down on one knee and proposed in our new master bedroom.
3. If you had life to do over, what would you be when you grow up?
I would become the lawyer I always wanted to be; but got talked out of.
4. When do you put up your tree?
Our tree usually goes up the first Sunday of Advent. We're late this year though as Mr. Twingle is out of town and I need his help to assemble the tree.
5. What is your favourite Holiday?
Anyone who knows me, knows that my favourite holiday is Christmas. I love the whole idea of it. The sights and sounds. The scents and foods and goodwill towards men.
Okay, so those are my answers. Now what are yours?