TGIF!
I am so glad it's Friday. This week has been an interesting one and I'm ready for a break. It all started on Monday when Boo went to school with all his outer wear as normal and came home with boots, exactly the same, yet 5 sizes bigger than those he went to school with.
I would love for someone to explain to me how a child goes to school with boots that are a size 1 and comes home with boots that are size 6? I've spoken to the teachers and checked the lost and found and there isn't any sign of Boo's boots. What gets me the most is that whoever has them, is cramming their foot into boots that are too small for them. I just don't get it!
Sigh, I'm ready for some fun. So here are this weeks Five Question Friday responses. Enjoy!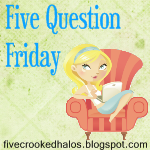 1. Where did you meet your spouse and did you instantly know it was love?
Mr. Twingle and I met in high school. We were actually friends long before we started dating; so no, I had no clue it was love! We were both in the school concert band; I play clarinet and he was a percussionist. He claims he "only joined the band for the chicks". I guess it worked.
We actually started dating our senior year, in the June, just before summer vacation and heading off to university.
I had realized I "liked" him while signing his yearbook and getting all teary at the prospect of not seeing him again.
A few days later was my 19th birthday and Mr. Twingle brought me over a card and a shot glass (you can legally drink in Ontario at the age of 19). I thought it was so sweet of him so I invited him over for cake later since I couldn't go partying as I had an exam the next day. He and our mutual friend came over and we played cards in the kitchen while enjoying cake and having a beer. I started playing footsies with him under the table and our relationship took off from there!
2. What is your favourite room in your house?
I would have to say I love my kitchen. It's actually the main reason I wanted to buy the house in the first place. It's large and open and has TONS of storage space and room to entertain.
3. Can you wiggle your ears?
Can't everyone?
Seriously, don't your ears wiggle or move when you talk or smile or chew? Mine certainly do.
4. What is your evening ritual?
Mine or the kids?
Kids: eat, play, bath, brush teeth, brush hair, jammies, tuck in, "bug bites", kisses, hugs, lights out.
Me: potty, brush teeth, jammies, zzzz.
5. How many hours of sleep do you need to function?
This is an interesting question. I guess to function, I can get by with only 4 or 5 hours; but, I won't be at top performance.
For optimal performance, I need at least 7 hours of sleep; but 9 would be AWESOME!
______________________________________
So, that's it in a nutshell. I'd love to hear what you have to say and don't forget to enter my CSN stores
giveaway
for $35 to spend in any of their 200+ stores!