The first month of the new year is coming to a close. I think I've done well at maintaining at least one of my resolutions so far: to blog more. While I haven't blogged every day; I have written more posts this month than I have in previous months so I'm off to a good start.
Today was a challenging day. I gotta tell ya, twin six year olds can be quite...troublesome. So now that they are in bed I'm having a glass of wine to release some of the stress of the day while answering this weeks Five Question Friday!
The rules are simple so I hope you'll play along. First, copy and paste the questions (found at
My Little Life
) into your blog and answer them. Then link up to that post. Lastly, have FUN!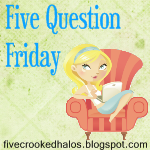 1. If you had $1,000 to donate to a charity, which would you choose?
This is a really tough question.
There are so many wonderful charities that are deserving of the money and quite a few that are near and dear to my heart.
I guess, I would have to say
McMaster Children's Hosptial
. Two of the three kids have had stays at Mac. Boo, was admitted only hours old because he was nine weeks premature and had difficulty breathing. He was admitted to the Level III Neo-Natal Intensive Care Unit (NICU) where he was on a respirator for a day, CPAP for four days and remained in the NICU for eight days; a relatively short time given how early he arrived.
Pickle was born at Mac; but, ended up being admitted to the Level II Special Care Nursery (SCN) due to low blood sugar. While she was there getting her sugars increased by IV, it was noticed that she was having
brady's
and
apneas
, uncommon for a term baby. She ended up in the SCN for eleven days until the paediatrician was certain her health was not at risk.
Through their expertise and wonderful care I now have three healthy children that like to drive me crazy!
2. Snow days: Do you welcome them happily or are they a pain in your butt?
I LOVE snow days!
There's nothing better than getting outside with the kids to build a snowman, fort or just have a good ole snowball fight in the fresh, falling snow!
3. What talent did you wish you had and why?
I think we've answered this question
before
.
4. Are you a news, politics or celebrity gossip junkie?
None of the above.
Okay, that's not totally true. I do like to read the odd celebrity gossip piece; but, I'm definitely not a junkie. My general opinion is "who the hell cares?"
5. What is your favourite "cocktail"? Are you a beer person, kiddie cocktail junkie, or perhaps your more the "Cosmo" kind? Anything flies...doesn't hafta be alcoholic!
Really it depends on the day and my mood. But 9 times out of 10 I'll go for a cosmo or a mai tai!
______________________
Well, what did you think? It's your turn. I hope you'll link up as I'd love to see your responses. Don't forget to enter my CSN stores
giveaway
for a chance to win a $35 shopping credit in any of their 200+ stores. Giveaway ends Feb 1, 2011