OMG, is anyone else super excited that the weekend is finally here? It seems like this week has dragged ever so slowly.
I'm ready for two days off from playing chauffeur to the kids and their various activities. I'm also ready to answer this weeks Five Question Friday from
My Little Life
.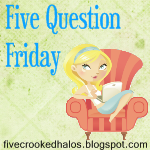 1. What is your favourite summer time activity?
I LOVE to camp!
There is nothing better than being outdoors in the fresh air. Swimming, getting dirty, enjoying a roaring fire...it's all good to me!
2. Do you have one laundry soap you stick to, or do you buy whatever's on sale?
We use Cheer. I like the light scent and it does the job.
It also helps that I'm allergic to Tide so I can't use that. And, switching laundry detergents over and over can actually be hard on your machine and clothing.
3. What is your favourite dinner to make in the summer?
Man, this is going to make me hungry just thinking about it...
...BBQ'd steak, baked potatoes (on the BBQ) and corn on the cob.
I'm wiping my chin here folks...yum!
4. Do you have any talents?
I'm crafty and I play clarinet. I guess those are talents.
5. If you could instantly be an expert in something, what would it be and why?
Hmmm...this is a tough one.
I don't know that I'd even want to be an expert. Wouldn't that be boring? Never having the opportunity to better oneself?
Okay, so that's it. Now go link up!