TGIF! It's been a busy week and I'm glad the weekend is here. The twins head off to my parents tonight for a week! It will just be me and the Pickle for the week since Mr. Twingle is in and out with work.
While the kids are quiet for a few minutes, I thought I'd take a moment to join up with
My Little Life
and Five Question Friday!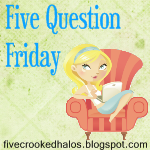 1. If your husband had the BIG V and you got pregnant, what would your first reaction be? For the dudes, what would your first reaction be if your wife told you she was pregnant after the BIG V?
This question makes me chuckle.
When Mr. Twingle and I started dating his mom used to tell me about how there was "no stopping the N's". I think it was an attempt to scare us into not doing the deed; but I digress.
You see Mr. Twingle is a product of a BIG V that didn't take! He also has cousins who "shouldn't be here" but those aren't through faulty vasectomies.
So, yeah...if I ended up pregnant after the BIG V, I'd just chalk it up to "no stopping the N's"!
2. Best memory about this summer so far.
Our family camping trip last week! It was Pickle's first camping trip and we had a great time...after the first night! Pickle got spooked that first night and cried for about 4 hours straight...totally unconsolable. Which isn't like her at all. But thankfully, she settled in the next day and we had a great time.
3. How often do you change your sheets? Your kids sheets?
Um, do I have to answer this one?
I'm embarrassed to say, not often enough. Maybe once a month, unless there is a NEED, like a bathroom accident, etc...
Keeping up with clothing laundry for five is a challenge so adding bedding to the mix just isn't high on the priorities.
4. Having just gone through TSA, would you rather have a full-body scan or a pat-down?
Neither, both are an invasion of privacy. But I guess if I HAD to, I'd chose the pat-down.
5. Since it's fair time, what's your favourite fair memory?
Well, it's not fair time yet in Canada. Ours are usually in the Fall.
My favourite memory is probably as a teen. I think I was about 16 and my friends and I spent the entire weekend at the fair. The sights, sounds and smells always thrill me.