TGIF! Even though it's been a short week for us Canadians with the Thanksgiving Holiday last Monday, I'm glad the weekend is here.
I hope you all had a fabulous week and will pop by to say hi again sometime.
In the meantime, it's time for Five Question Friday! When you're done here, go visit My Little Life to say hi. Don't forget to link up your own FQF answers.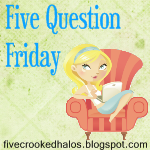 1. Do you prefer your ice cream in a bowl or a cone?
Honestly, it depends on the day. At home, a bowl works just fine. Although, it does mean one more dish that I have to wash.
But if we're out on a hot summer day, it's got to be an ice cream cone!
2. What three things do you love the smell of?
All of mine are food related, is that wrong?
First, I love the smell of mulled apple cider. There's nothing better than the aromas of apples, cinnamon, cloves and allspice, wafting through the house.
Second, turkey. A turkey roasting in the oven...YUM.
Last, fresh baked bread.
3. Giftcards or no? (In regards to gift giving...)
It depends on the person. While gift cards can seem impersonal to close family members; to a teacher or one of the twins' classmates, I don't see anything wrong with it.
4. What sports did you play in high school, if any, and do you still play them?
I didn't play any sports in high school; but, I did play softball for several years before high school. I haven't played though since I broke my arm when I was 13.
5. Were you in a band in high school? What instrument did you play?
Yes! I was in the concert band, wind ensemble, Honour Band and even jazz ensemble. My main instrument is a B-flat clarinet. I also played the alto-sax for jazz ensemble and a school talent show once. I still play to this day, though not formally. I pick it up now and then at home and hope to someday get back into it.
_____________________________________________
So, that's it for me! Don't forget to link up and share your 5QF answers. Have a great weekend!