TGIF! Seriously, I am so glad it's Friday because it means I get two whole days off from packing lunches. Yep, it's the little things I tell ya, LOL.
We have a busy weekend ahead as I'm sure many of you do. I'll be out tomorrow with my Guides trying to sell off the last 10 cases of cookies we have. Then the kids and I will be off to the
momstown Hamilton
Art & Play event for a luau!
Wishing all the moms out there a very happy Mother's Day weekend.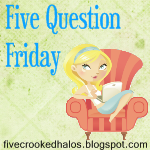 Rules for 5

QF

: Copy and paste the following questions to your blog post, answer them, then watch for the

linky

post to appear Friday morning and LINK UP!
Oh, and remember (pay close attention...this is the important one)...HAVE FUN!
1. What advice would you give a couple getting married?
I think the best thing I could offer up to couples getting married is this; a marriage is hard work. If you're not willing to work at it "for better or worse", then don't get married. There are going to be highs and lows; but, it's how you deal with lows together that will make you strong. Don't run for the hills at the first sign of trouble. Make a whole-hearted effort to make it work.
2. If you could tell your 16 year old self ONE thing, what would it be?
I think I would have to tell myself not to care so much about what others think. In then end, the only opinion that matters is yours. If you see yourself as smart, beautiful and loving; others will too.
3. What do you do to keep cool in the summer? (AC, window fans, swimming, etc.)
We have AC as the humidex in South-western Ontario can be stifling. However, we don't stay indoors all day long. I often take the kids to shady parks with splash pads or wading pools. We'll have a picnic lunch, play ball, cool off in the water and just have fun. I'm not sure how we are going to be able to do that this year though, as we only have one car now. I guess the little inflatable splash pool will have to do.
4. What did you (or your wife) crave most while pregnant?
With the twins it was fish n' chips. I don't like seafood of any kind; yet I HAD to have it when I was pregnant. Afterwards, I wouldn't go near it again.
With Pickle, it was BBQ'd steak. I couldn't get enough of this red meat; and likely because my iron was low during pregnancy.
With both pregnancies though, I wanted citrus fruit. I had oranges, clementines and lemons ready to be eaten or used as a garnish at all times. I love citrus fruit anyway; but, during my pregnancy it was like I couldn't' get enough.
All in all, not terribly crazy cravings.
5. Who is your favourite TV mom? Why?
I think I'm going to have to say Lorelei Gilmour from the Gilmour Girls. She was a young mother, who managed to accomplish SO much. She was faced with a difficult situation and rather than shrink away, she stood up to the challenge and made a life for her and her child. She raised a smart, independent, self-assured woman that trusted her mother with [almost] anything. That relationship is what many moms dream about.
So yeah, that's my favourite TV mom...now it's your turn!